Yuneec Typhoon H Pro - Right now the most advanced and sophisticated drone in the market, ideal for intermediate and advanced pilots, with everything you need and as easy to transport as never before.
Size 480 hexacopter, with ST16 ground station, retractable landing gear, gimbal-camera CGO3+ - 4K - 360º continuous with many smart functions, so far unknown to the drone world.
MORE INFORMATION ABOUT THE YUNEEC TYPHOON H:
- The standard version includes an obstacle detection function, which means that the drone will stop in front of an obstacle. In order to fly avoiding obstacles, an additional module is necessary, the Intel® RealSense™ Module, which will be available separately in the near future.
Buying your multicopter with Futurdrone, you will benefit from first-class service and after-sales service: Trust in professionals, we figure in the official UAV operator list in Spain by AESA.
The Typhoon H from Yuneec is an advanced platform designed for aerial videos and photography. Thanks to Yuneec's spirit of constant innovation and investigation of advanced technologies, the Typhoon H, right now the smallest and most intelligent of the Typhoon family, is your best choice, whether you are an intermediate or advanced pilot.
The Typhoon H offers you aprox. 22 minutes of flight time, meanwhile filming with its 4K CGO3+ camera. The standard equipment includes the super easy to use ST16 personal ground station, with a 7" touch screen working in Android.
WHAT'S NEW:
- Obstacle detection system via sonar: A transmitter and a receiver located at the front of the multicopter are able to detect obstacles in front of the drone, causing the Typhoon H to stop in its forward flight or to even fly backwards, should the obstacle get nearer to him.
• WAYPOINTS
• ORBIT A POINT OF INTEREST
• ORBIT THE PILOT
• OPEN / CLOSE SCENE
• 5-ROTOR EMERGENCY MODE
• FOLDABLE ARMS
• RETRACTABLE LANDING GEAR
NEW CHARACTERISTICS OF THIS LATEST VERSION OF THE TYPHOON H PRO:
- The transmitter ST16 of the new Pro comes with THREE ANTENNAS INSTEAD OF TWO... improvement to support the compatible, though optional Intel REALSENSE module (Not included, will be available separately soon).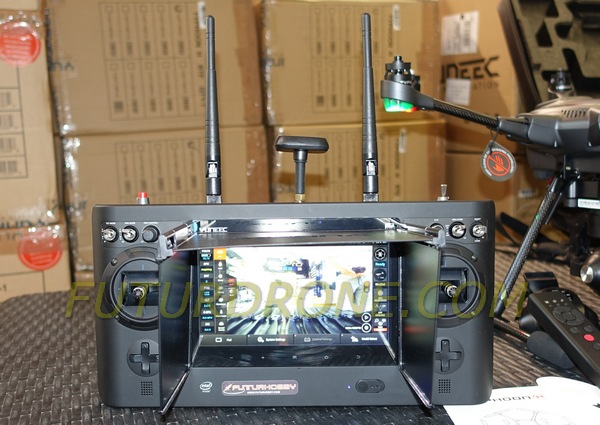 - New system of receiver antennas at the hexacopter, with a rigid double antenna (the antennas of the receiver result more protected).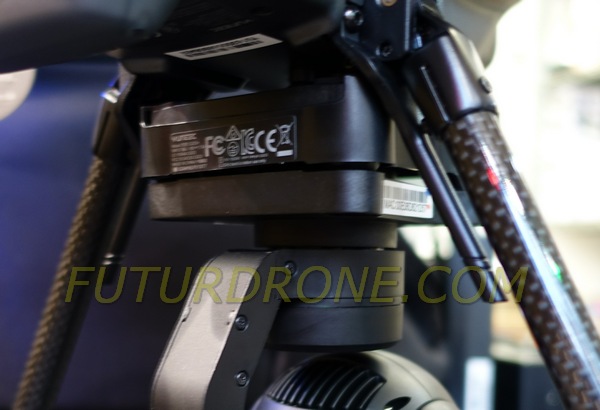 - The new soft and very compact backpack: even less size and weight at the moment of transporting your Typhoon H Professional. Provided with wide straps and extra padding at the back for maximum comfort.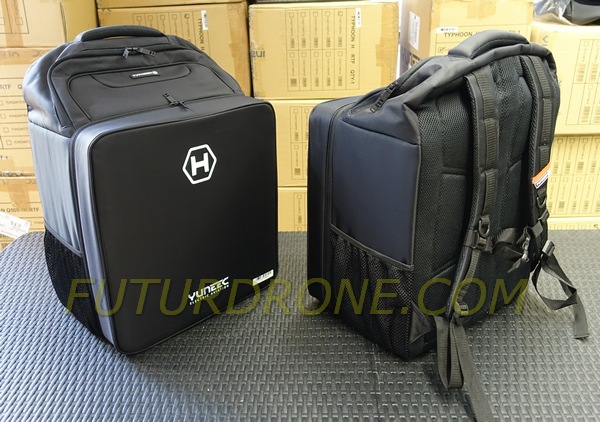 With a very handy upper compartment, which allows you to store accessories, your pilot license or other personal items important to you on your way...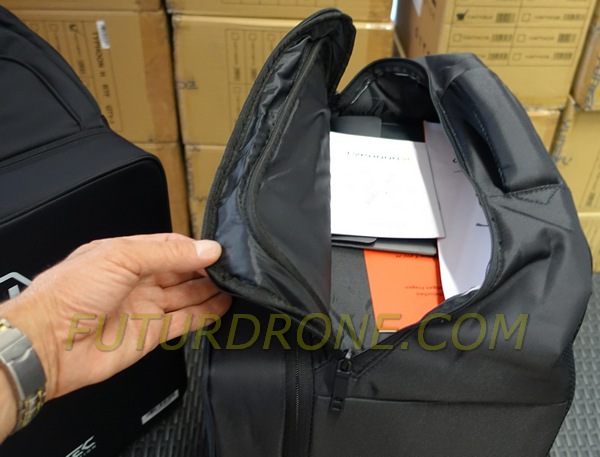 - LATEST FIRMWARE ALREADY INTEGRATED WITH THE FOLLOWING NEW FUNCTIONS :
. To watch videos or fotos you just took, it is not necessary anymore to extract the micro SD card from the camera and to pass it to your ST16 or Laptop. Now you can simply use the new PLAY functions which allows you to directly watch them on screen.
. Quicker connection with the camera and improvements of the quality of the downlink.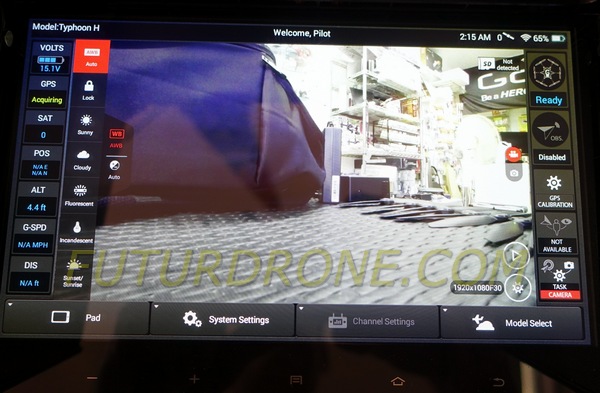 . All the telemetry data of your drone clearly indicated on screen, in real time and a very simple interface to access all the camera functions or the drone smart functions, including the automatic dynamic flight modes, all through the high precision touch-screen.
. FINALLY and for the first time in Yuneec drones, the GPS can be connected and/or disconnected during flight, to be able to switch to manual flight to GPS and back without the necessity to land first.
OTHER FUNCTIONS:
• UHD 4K/30FPS, FULL HD 1080p/120FPS
• SECURE VIDEO DOWNLINK 5.8GHZ WIFI
• FULL HD 1080P 24/25/30/48/50/60/120 FPS
• 3-AXIS GIMBAL - ANTI-VIBRATION
• LOW DISTORTION LENS
• 12.4 MEGAPIXELS
• WATCH ME & FOLLOW ME FUNCTIONS
• ON-SCREEN TELEMETRY
• SD CARD WITH VIDEO TUTORIALS
• DYNAMIC RETURN TO HOME
• AUTO-LANDING
THE KIT CONTAINS :
• TYPHOON H PROFESSIONAL WITH TYPHOON WIZARD
• CGO3+ 3-axis gimbal / camera
• Ground station ST16 - 16-channel 2.4GHz with video transmitter and GPS
• LIMITED OFFER : 3 x Lipo Battery 5.400mAh 4S 14,8V
• Battery Charger AC/DC 220 and 12 V
• 12V car charger and charging cable 220V
• USB adapter cable
• Sunshade for the ST-16
• Propellers (5x CW/5x CCW))
• Micro SD card 16GB
• Compact backpack for Typhoon H
Buying your multicopter with FuturDrone, you receive first-class information and after-sales service: Trust in professionals, we figure in the official UAV operator list by AESA.
FuturDrone is the new online shop specialized in drones and UAVs by Futurhobby S.L.