YUNEEC H520E + CAMERA ETX LITE COMBO
The new flexible UAV platform for industrial uses.
A state-of-the-art hexacopter with a view to the future
The H520E-OFDM was developed specifically for industrial uses and becomes a very versatile tool for Inspections, Photogrammetry, Agriculture, Rescue Missions, Law Inforcement, Firefighting, Surveyors and Audio Visual professionals.
Thanks to the variety of payloads that the drone can carry, it can be applied to practically any professional use in which we need it.
The Yuneec H520E-OFDM is a robust, powerful and flexible UAV platform, which is ideally adapted to the individual needs of each pilot and thus allows a wide range of specific uses according to each sector.
Long duration flight time and high quality camera systems with embedded GPS data allow easy, fast and accurate acquisition of terrain data.
Its interference-free precision compass also allows it to fly in areas hitherto difficult to access for other drones.
Apart from its power and flexibility, the development of this drone has focused especially on the safety of the flight and the data of this platform.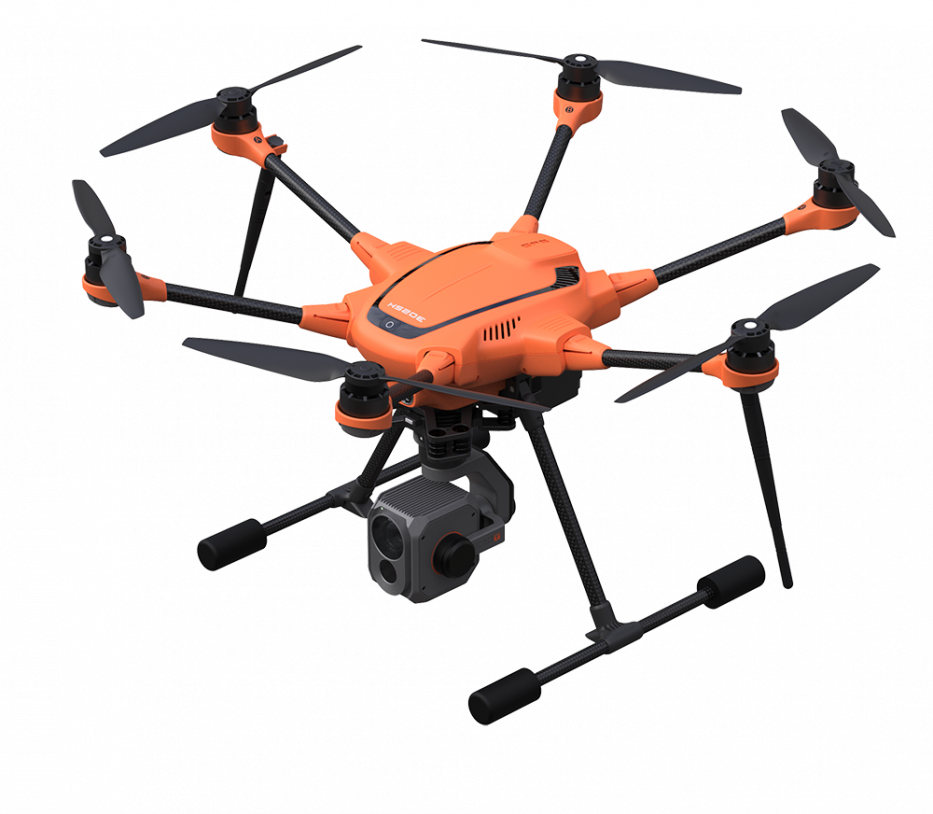 An intelligent security concept
The H520E-OFDM was developed with the highest expectations in terms of security and functionality.
As we have already been able to verify in other Yuneec models, its 6-rotor system provides us with a stable, safe flight and with a lot of resistance to wind. In case of losing one of these rotors, the drone can continue the flight until a safe landing.
Integrated ultra-sound sensors allow it to locate frontal obstacles and thus avoid a collision.
In the event of a low battery, the drone notifies us several times before entering in "Fail Safe" mode and landing safely.
Other safety features of this drone are a redundant control signal, the "Return Home" function and the "Geo-Fence" option, the latter of which does not allow the drone to stray beyond the radius set by the pilot.
Our Video Review (in Spanish):
And an example of the use with its Control App DATA PILOT:
The extensive DataPilotTM Software
Yuneec's DataPilotTM is an extensive software solution for mission planning with Waypoints or "Survey" missions which is fully integrated into the H520E-OFDM Hard- and Software. The DataPilotTM application allows the efficient and consistent production of Orthomaps, 3D-Scans and flights of repetitive routes without the need to resort to additional expensive third-party software.
Surveillance flights, Construction measurements, BIM components, Accident reconstruction, Forensic acquisition, 3D-Scans, Orthomosaics and Photo-Stitches, this and much more can be done precisely and efficiently with the Data-Pilot Interface.
The DataPilotTM Software is installed as standard on Yuneec ST16E transmitters.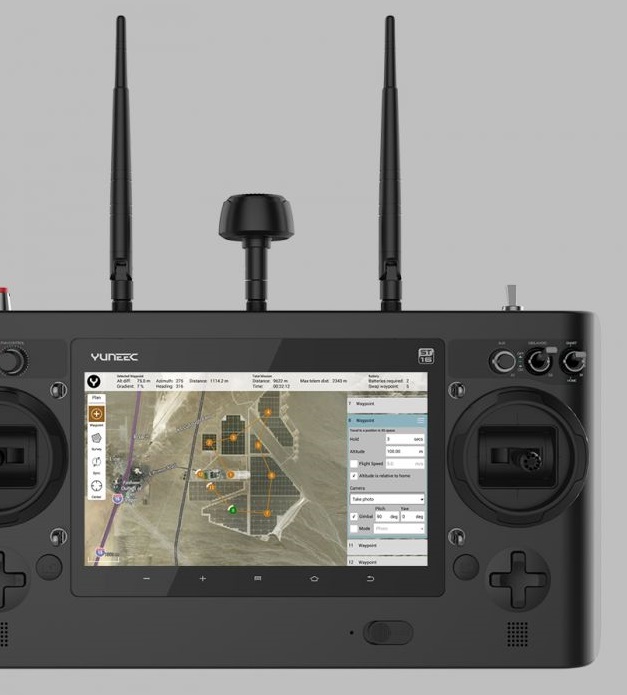 Remote Flight Mission Planning
The Yuneec DataPilotTM automatically generates a flight route of a defined area, including overlays and cross paths for precision 3D models or large format photos.
For this, the DataPilotTM can process and save maps from different providers, and thus be able to fly in areas without internet access.
The App offers us tools to set precise Waypoints even if there is no current cartographic material of the area.
Flight missions can be saved for later use, programmed remotely from the area of operation, and then flown where needed. In this way, time can be saved, joint missions of several pilots can be scheduled, as well as the possibility of archiving said missions in the cloud or the company's corporate network.
Wide Variety of Compatible Cameras
This COMBO includes the camera Yuneec ETX LITE, but as for its predecessor, Yuneec offers different cameras compatible with the H520E depending on the pilot's intended use.
If we have several cameras, it is not even necessary to turn off the drone to change them. They admit "Hot-Swap", which saves time and works more efficiently.
Yuneec currently offers 6 options :
The E90X for audiovisuals, the ETX-Lite, E20Tvx and E20Tvx-Pro for thermographic work, the E30ZX that offers a 30x zoom and the LaQuinta Multispectral camera.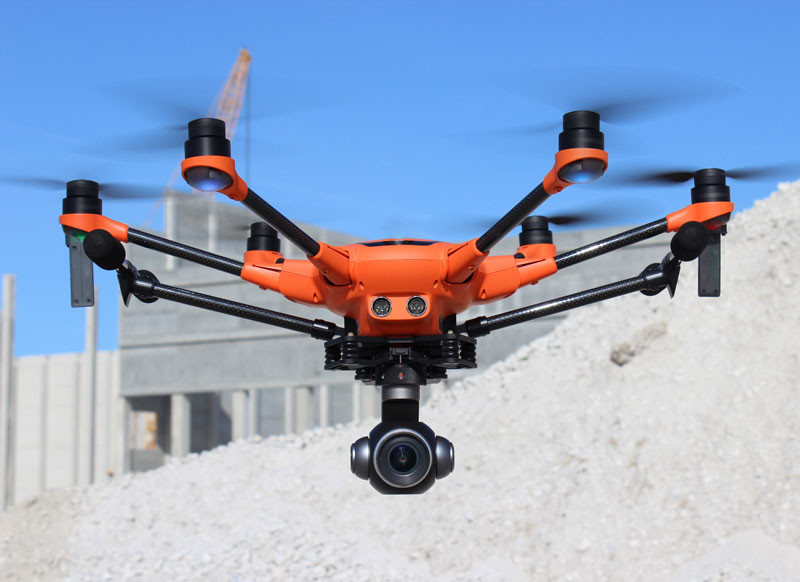 Kit's Content :
1 x Hexacopter Yuneec H520E with OFDM module
1 x Thermal Camera ETX LITE (Res. 256 x 192)
1 x Groundstation Yuneec ST16E (with round antenna)
1 x Transmitter Strap
1 x Sunshade for ST16E
2 x 4S Flight Battery - 6200 mAh
1 x Battery Charger
1 x 12V. Charging Cable
10 x Propellers (6 units + 4 spare units)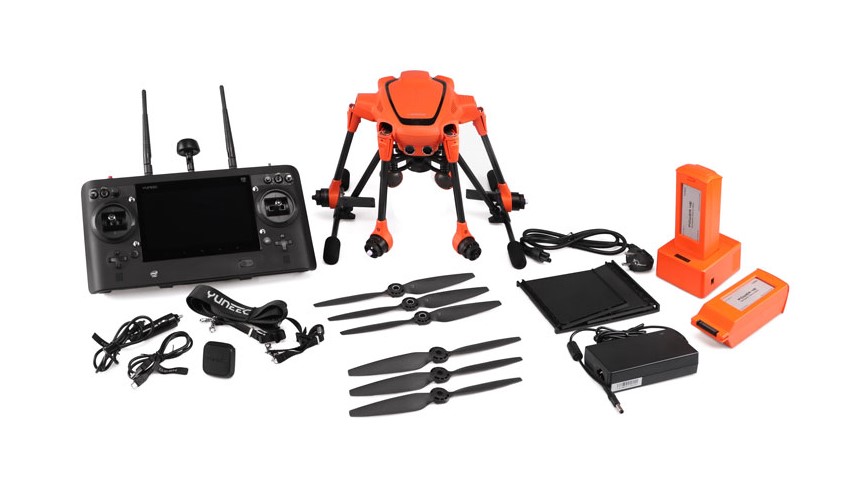 This equipment INCLUDES the thermal Camera Yuneec ETX LITE. Additional cameras for this drone can be purchased separately.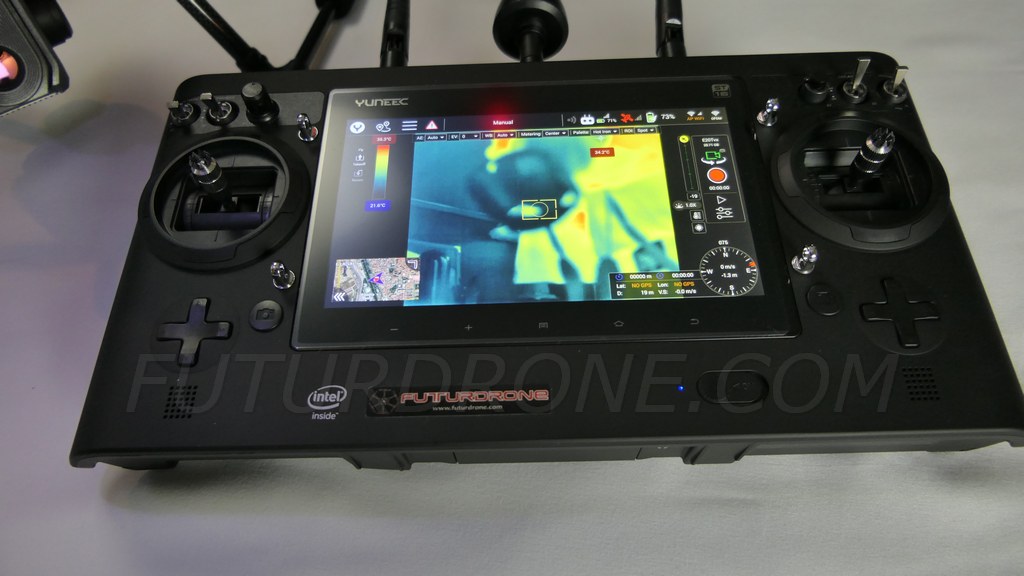 For any additional information about the purchase of this drone in our shop, please don't hesitate to contact us at info@futurhobby.com
For more information about DRONES YUNEEC EN ESPAÑA.