NATSEQ TANDEM by KAYAK INNOVATIONS
Here we present the tandem version of the NATSEQ, that is to say, the two-seat version. Double the fun while maintaining all its transportability and quick assembly qualities. The ideal option for those who sometimes want to paddle in company, but not always. The second cockpit is added in the blink of an eye to paddle along with a friend, your child or your wife and if later on we still want to go again alone, well, no problem at all, adding or taking out the second cockpit takes less than a minute.
The NATSEQ is the modular kayak with the best performance and probably the longest waterline with such length on the market.
It is ideal for rivers, lakes, reservoirs and coastal waters, during a few hours or a couple of days, alone or in company.
This is its biggest advantage, the Natseq can change at our own pace. We are speaking of the most versatile kayak in the world.
The NATSEQ is 100% made in Germany.
It is a unique detachable kayak, due to its extremely small joints between the modules and a patented closure system which allows assembly and disassembly in a few minutes.

Sporty lines, combined with plenty of space for the kayaker of up to 2 meters tall, including their luggage for short day trips to long trips of several weeks make our boat a full-fledged touring kayak.
The considerable payload of 160 kg in the single version and 260 kg in the tandem version is more than enough.
Its hydrodinamically perfect shape underwater, from the bow section to the stern section, endowed with a high freeboard in the middle section, allows the NATSEQ kayak to be fast, stable and easy to maneuver at the same time.
The depth in the hold "hull height" at the bow section is very large, facilitating optimal buoyancy when passing a wave, preventing the bow from submerging.
At the stern though this height decreases notably, which gives us a low and flat rear deck, facilitating the auto-rescue (getting back up in the event of an unlikely capsize).
KAYAK INNOVATIONS have truly designed and built a fast, agile and easy to maneuver boat that will give you lots of fun and endless wonderful hours on the water.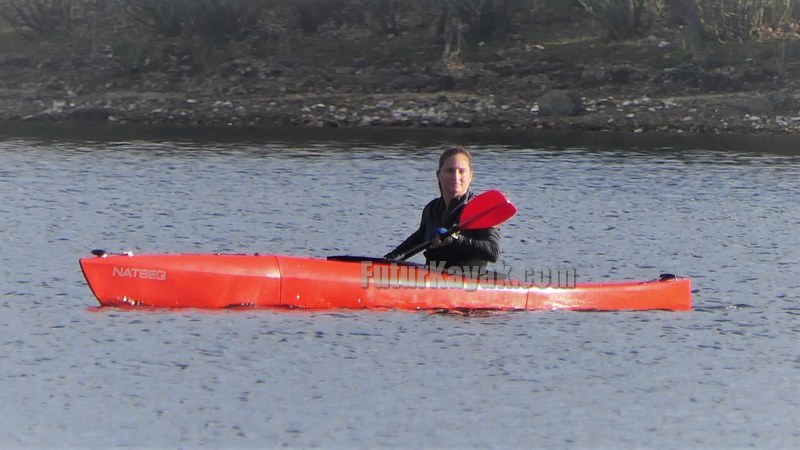 The Natseq Tandem can be converted to one seat in seconds!
HIGHLIGHTS :
* Suitable for beginners and experimented kayakers, in fresh water and salt water, a true "All-Rounder"
* Safe and robust closure system
* Easy to transport within the trunk of your car, or on the roof bars on top or a part in each place
* Assembled and disassembled in 1 minute
* Fits down any basement staircase and/or in any elevator
* Made of very robust rotomolded polyethylene, resistant to scratches and UV rays
* Adjustable backrest
* Integrated knee pads
* Comfortable and easy to adjust footrest system
* Low maintenance due to high quality components
* Unsinkable due to sealed modular construction
* At present available in 3 colours : Red, Blue and Green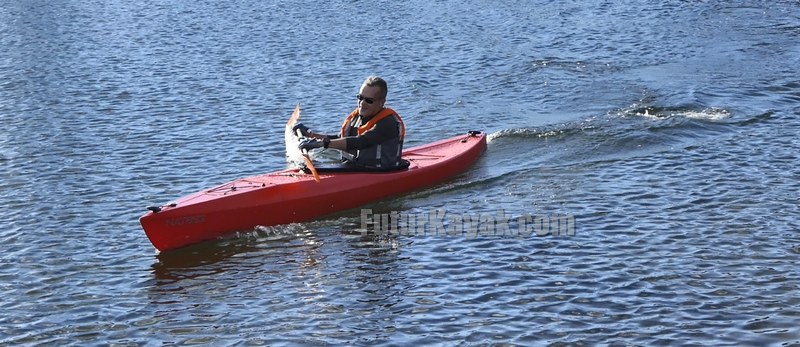 As a One-Seater kayak, the Natseq is stable and fast.
The Kayak Innovations Natseq Tandem is stable and agile, suitable for all levels.
DO NOT HESITATE TO CONTACT US BY E-MAIL AT info@futurkayak.com OR BY WHATSAPP AT 646 - 489 771 FOR QUESTIONS AND DOUBTS. JUST AS WITH THE DRONES, WE ALWAYS KNOW THE PRODUCT WE SELL...
WE CAN ALSO ARRANGE FOR YOU TO TEST-PADDLE WITH THE NATSEQ IN THE AREA AROUND LEÓN.
Features :
Total Length Tandem : 5,60 mts.
Max. Beam : 0,59 mts.
Bow Module : 1,22 mts.
Weight Bow Module : 6,4 kg
Cockpit Module : 1,58 mts.
Weight Cockpit Module : 14,4 kg
Tandem Cockpit Module : 1,60 mts.
Weight Tandem Cockpit Module : 15,3 kg
Stern Module : 1,47 mts.
Weight Stern Module : 8,8 kg